J'incarne les 13 archétypes du Féminin: La Guerrière
Online stream
Starts on Thursday, 06/04/2023
Price from 30.00 €
Description:
Comment incarner dans mon quotidien les 13 archétypes des Femmes Sacrées que je porte?
Un archétype est une combinaison de qualités, de pensées et de comportements qu'un Humain affiche.
Nous avons tous en nous des énergies divines féminines et masculines. Etre une Être Humaine pleinement incarnée, signifie faire vivre consciemment en osmose ces deux énergies. Pendant longtemps ce sont les énergies masculines que nous avons été invitées à valoriser mais les temps changent et enfin la puissance et la reconnaissance de l'énergie féminine comme faisant partie intégrante de l'équilibre de tout être humain reprend sa place aujourd'hui.
Nous sommes à l'ère de la reconquête du féminin. Chaque jour, davantage de femmes (et d'hommes) s'éveillent lentement à ce qui a été perdu. Plus nous développerons les qualités de ces archétypes féminins et les intégrerons dans nos vies, plus nous nous sentirons nourris et équilibrés.
Pour nous permettre de nous réapproprier concrètement ses énergies je vous invite chaque mois au moment de la pleine lune de découvrir à travers un atelier de 2 heures l'archétype féminin du mois et ses caractéristiques.
La séance se déroulera ainsi:
une heure de présentation de l'archétype
une heure de méditation afin d'activer son énergie en nous
Online stream
There is an online stream available for this activity. To participate, take the following steps:
This studio uses Zoom as their online streaming provider. Download the according app to your laptop, tablet or smartphone
Access to the online livestream is available 15 minutes before the start of the activity. Simply go to "My bookings" and click on "Join online stream now" to be redirected to the corresponding page
With some streaming providers (e.g. Zoom) it is possible for participants to see each other. However, it is theoretically possible to deactivate the camera function. The name you enter when entering the online meeting room is displayed to other participants. However, you can always change your name (e.g. only the initials). Please note: Individual rules for online participation may apply for each class or venue.
Trainer :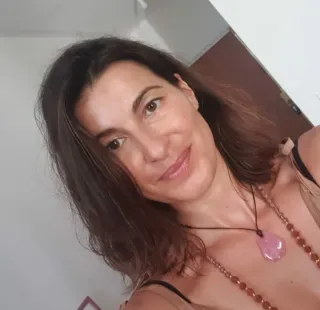 laetitia
Passionnée par la danse depuis l'âge de 8 ans, Laetitia déborde d'énergie. À la suite d'une blessure, elle découvre le Pilates lors de sa rééducation en 2001. Convaincue des bienfaits de cette méthode s'adressant à un large public, en quête de bien-être, elle décide de transmettre ce savoir-vivre à tous. Enseignante depuis 2005, elle découvre alors le yoga lors d'un voyage à Bali. Ce voyage sera alors pour elle une révélation. Depuis, elle ne cesse de se former aux techniques capables de la faire voyager dans le monde du mouvement et de la conscience. Hatha, Nidra ou Yin yoga, elle vous invite à reconnecter votre corps et ses émotions en conscience et douceur. Faire corps avec son corps pour atteindre le Soi et suivre sa magie.
Dates:
| | | | | |
| --- | --- | --- | --- | --- |
| 1. | 06/04/2023 | 20:00 - 22:00 | -- --, -- -- | laetitia |
* All prices including VAT