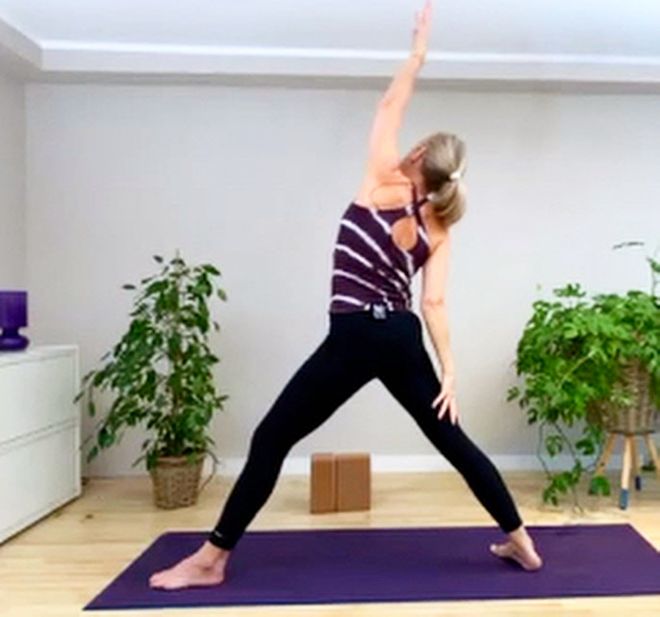 Juicy Flow
Video
Originally live streamed on
Sat, 15/01/22, 10:00 - 11:00 (60 min)
Facility/Studio
Lumines Yoga
Available until
16/01/2022 11:00 o'clock
Price
10.00 €
Single ticket
15.00 €
LIVESTREAM Class
130.00 €
LIVESTREAM Pass
180.00 €
FlexI Pass
57.00 €

/ month

Livestream ABO
About the class
Juicy Flow bietet Ihnen ein Ganzkörpertraining, das den Stoffwechsel ankurbelt und fettfreie Muskelmasse aufbaut. Es wurde entwickelt, um herauszufordern, da es stärkt und tonisiert, ohne die Posen zu kompliziert zu machen ....................
Juicy Flow gives you a full body workout that boosts metabolism and builds lean muscle mass. It is designed to challenge as it strengthens and tones without making the poses too complicated.
About the trainer/teacher
Founder and owner of Lumines Yoga, Gillian's yoga journey has inspired her teaching to be a reflection of her own values; joyful, fun, creative, informed, and intelligent. As a former professional sports trainer, she loves challenging the limits of her own mental boundaries and of what's possible when the mind and body work together. Gillian's teaching style has ripened through the years with a dedicated and varied practice in multiple disciplines and traditions of yoga. Her teaching method is a uniquely blended Vinyasa framework infused with Katonah Yoga®, a Hatha practice rooted in geometric alignment principals, pranayama, and Taoist theory. As a certified Katonah Yoga® teacher, her experience with this practice allows her to provide pragmatic, dimensional, and practical insights into the material. Her classes are full of creative sequences that are playful yet challenging, and her lighthearted attitude and playlists will always put a smile on your face. Her goal is to make yoga accessible, enjoyable, and informative for everybody so that they can live life at a higher frequency. Her passion for travel has allowed her to train, teach, and learn, as well as lead yoga retreats, around the world. She finds endless joy in experiencing new places, and her retreats aim to share the world with her students in a way that is real, raw, uplifting, and insightful.